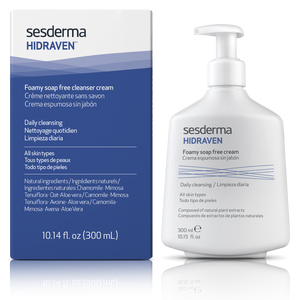 HIDRAVEN Foamy Soap-free Cleanser has excellent tolerance, due to its content in natural plant extracts (chamomile, oats, mimosa and aloe), it has moisturizing, soothing, regenerating and skin-protecting properties.
Product details
Suitable for daily facial cleansing for all skin types, especially delicate, sensitive, acne-prone or soap intolerant skin. Also recommended for fast eye and face makeup removal.
How to use
Apply product to wet skin and gently massage, then rinse with water for a smooth clean finish.
Key ingredients
Chamomile extract, Oatmeal, Mimosa, Aloe Vera.