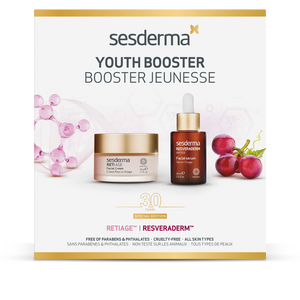 The Perfect Moisturizing Duo, to help ward off the effects of environmental stressors and sun damage. 
RETI
 AGE™ Facial Cream formulated with the 3-Retinol system that provides time-release retinol combined with plant-based growth factors, and Hyaluronic Acid. 
RESVERADERM
™ Serum formulated with resveratrol a natural ingredient from the grapevine combined with Hyaluronic Acid.